BABAMANI
AKHANDA MANDALESHWAR SRI SRI SWAMI SWARUPANANDA PARAMHANSHA DEVA
Sri Sri Swami Swarupananda Paramhansha Deva was born Bankim Chandra Gangopadhyay (nickname 'Baltu') on 26th December, 1899 in Dualli in Dhaka, Bangladesh. His father, Satish Chandra Gangopadhyay, led the life of an ascetic despite the usual burdens of a householder. Mamata Devi, his mother, was instrumental in fostering the early signs of spirituality that sprouted in the initial years of little Baltu. The family known for their erudition and philanthropic activities resided at village Chandpur in the district of Kumillah.
HIS HOLY WORDS
LOVE FOR ALL
GREAT OR SMALL
ALL FOR ONE
ONE FOR ALL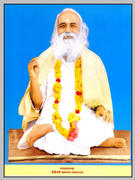 THE GREATEST MANTRA IN THE UNIVERSE
Om or the Pranava, would be able to unify people from all walks of life while taking them up the spiritual ladder, Swarupanandaji gave this Mantra to whoever approached him for initiation.
- SWARUPANANDA PARAMHANSHA
THE POWER OF HARI OM
" Hari Om, Hari Om, Hari Om, Hari Om" should not only be uttered, but should also be chanted. Know it to be the mighty incantation for unification of all. "Hari" means "God" and "Om" means "Yes", i.e. "Om" stands for "Being". "Hari Om" thus means "God is". The word "Hari" connotes 'one who gathers' , 'one who accumulates', 'One who culls'. The great mystic syllable "Om" being about integration of all fragmental units into an integrated and indivisible entity. For this reason alone, this mighty "Mantram" is otherwise designated as "Hari". All the wisdom of the universe, all truth, all weal, all incantation, all symbols, methods, ways means theories and approaches lie gathered together and accumulated only in Omkar. "Hari" means everything and "Om" means the mystic syllable.
-- SWARUPANANDA PARAMHANSHA
AN UPDATE DATA ABOUT THE HOLY PLACE OF AKHANDAS, WHERE THEIR GURU WAS BORN
Chandpur District (chittagong division) with an area of 1704.06 sq km, is bounded by munshiganj and comilla districts on the north, noakhali, lakshmipur and barisal districts on the south, Comilla district on the east, meghna river, shariatpur and Munshiganj districts on the west. River erosion is a common feature in this district. The Padma and the Meghna meet near Chandpur Town and take a vast expanse. Main tributaries of the Meghna are Dakatia, Dhanagada, Matlab and Udhamdi. Ghorgaon Jala is a beel. Annual average temperature-maximum 34.3?C, minimum 12.7?C; annual average rainfall 2551 mm.
BUT ABOVE ALL THE PLACE WE REMEMBER AS OUR BELOVED BABAMANI'S BIRTHPLACE
Chandpur (Town) a municipal town, stands on the bank of the Meghna. Its area is 7.77 sq km. It consists of 15 wards and 75 mahallas. The town has a population of 94821; male 50.77%, female 49.23%. Literacy rate among the town people is 56.4%. Chandpur Municipality was established in 1897. In the map of Greater Bengal by James Renel Chandpur has been exactly indicated along with Tripura. JN Sengupta thinks that Chandpur was named after zamindar Chand Ray of Bikrampur. Some people think that it was named after darvish Chand Fakir of village Koralia adjacent to the town. Again, some people think that it was named after Chand Sawdagar of the maimansingha gitika who used to come to this port for trade with his Swapta Dinga "Madhukar". During the first part of the twentieth century some European and Indian business firms established several jute mills here. But with the partition of Indian sub continent in 1947 most of these business establishments were closed down. This port was an important centre for jute and grain trades. Besides, many other trades on ship building, salt refinery, fishing net making and oil production are present in this port. However, some parts of the town have submerged into riverbed due to erosion and the Puran (old) Bazar is now under threat of river erosion. Since 1973 Tk 35 crores have been spent to build town protection dam with blocks.
Administration Chandpur sub-division was established in 1878 and was included in Tripura district. It was turned into a district in 1984. The district consists of 6 municipalities, 60 wards, 195 mahallas, 7 upazilas, 1 thana, 87 union parishads and 1226 villages. The municipalities are Chandpur Sadar, Shahrasti, Matlab, Changer Char and Hajiganj and the upazilas are chandpur sadar, hajiganj, kachua, faridganj, matlab, haimchar and shahrasti.
Archaeological heritage and relics Rasti Shah Dargah, Begum Mosque, Hajiganj Bara Mosque, Suja Mosque, Alamgiri Mosque, Mada Khan Mosque, Kalimandir at Matlab, Math at Lohagara, Math at Naorai, Math at Tultuli (Kachua), Raths at Sachar and Matlab, Pata of Behula at Ujani, ramnants of the fort at Nasir Court, Kali Bari at Meher, Neelkuthi at Shahebganj, Baraduara at Kasimbazar, Kalibari Mandir (1878) at Chandpur Sadar.
Marks of War of Liberation Memorial monument "Aungikar", Amra tomader bhulbana (we shall never forget you) at Faridganj, "Dipta Bangladesh" at Matlab and Chandrakandi memorial monument (Sadullahpur, Matlab); mass killing site: Raghunathpur Bazar (Hajiganj), Hamidia Jute Mils Compound, North and south Ray Sree; mass grave: Nasircourt (Hajiganj).
Population 2210162; male 48.67%, female 51.33%; Muslim 92.55%, Hindu 7.18%, Buddhist 0.06%, Christian 0.07% and others 0.14%.
Religious institutions Mosque 2852, temple 286, Church 2, most noted religious institutions are Begum Mosque, Puran Bazar Mosque, Shah Suja Mosque, Firoz Khan Mosque, Pasha Ghazi Mosque, Palgiri Mosque, Madakhan Mosque, Rasti Shah Dargah, Akra of Lakhinarayan Jeor, Chandpur Kalibari, Ajachak Asram, Kundubari Durga Mandir, Ramkrishna Mission, Harisava, New Zealand Baptist Missionaries, Meher Kali Bari.
Literacy and educational institutions Average literacy 37.8%; male 42.7%, female 33%. Educational institutions: university college 1, government college 2, non-government college 36, primary teacher's training institute 1, government high school 6, non-government high school 224, madrasa 1157, government primary school 786, non-government primary school 684, mass education school 76, BRAC school 28, community school 61, satellite school 37, kindergarten school 11, government deaf and dump school 1.
Main occupations Agriculture 35.13%, fishing 3.03%, agricultural labour 20.04%, wage labourer 3.15%, commerce 12%, transport 2.24%, construction 1.64%, service 11.68%, others 11.09%.
Main crops Paddy, jute, mustard seed, supari (nut), wheat, potato and sugarcane.
Main fruits Mango, jackfruit, papaya, banana, papaya, coconut, palm and guava.
Communication facilities Roads: pucca 215 km, semi pucca 91 km and mud road 1407 km; railways: 50 km; waterways: 190 nautical mile.
Traditional transport Palanquin, bullock cart and horse carriage. These means of transport are either extinct or nearly extinct.
Hats, bazars and fairs Total number of hats and bazars are 213, most noted of which are Puran Bazar, Natun Bazar, Baburhat, Kachua, Faridganj, Fatehpur, Suchipara, Begum Bazar, Hajiganj, Warukh, Matlab, Shahtali, Satnal; noted fairs are Austami Snan Mela (Chandpur), Meher Kali Mela (Shahrasti), Paush Samkranti Mela, Bijoy Mela, Asutami Mela (Aliganj, Hajiganj), Beltali Mela (Matlab) and Boi (book) Mela.
Main exports Hilsa fish, shrimp, betel nut and potato.
NGO activities Operationally important NGOs are brac, asa, CARE, grameen bank, Autta Nibedita, Aman, DPHE, BAVS, VOSD, Save Our Life.
Health centres Zila sadar hospital 1, charitable dispensary 1, upazila health complex 7, satellite clinic 20, health and family welfare centre 76, maternity centre 3, eye hospital 1, diabetic hospital 1, red crescent hospital 1, tuberculosis hospital 1, private clinic 6, railway hospital 1. [Abul Khaer Khan]
We are highly expecting your Comments. You may write your comments here Or send us mail